This recipe for Instant Pot Ribs goes together in about an hour and makes for a delicious family meal any time of the year.
Instant Pot Ribs
Orange Whiskey Baby Back Ribs
I can't remember the last time I played with a Christmas gift for as long and as much as I have my new Instant Pot. I've been cooking with it several times a week and slowly but surely I am knocking off different recipes that I have been hearing so much buzz about. Next on my hit list was this recipe for instant pot ribs and once again I'm going to be so bold as to say that it was a delicious success.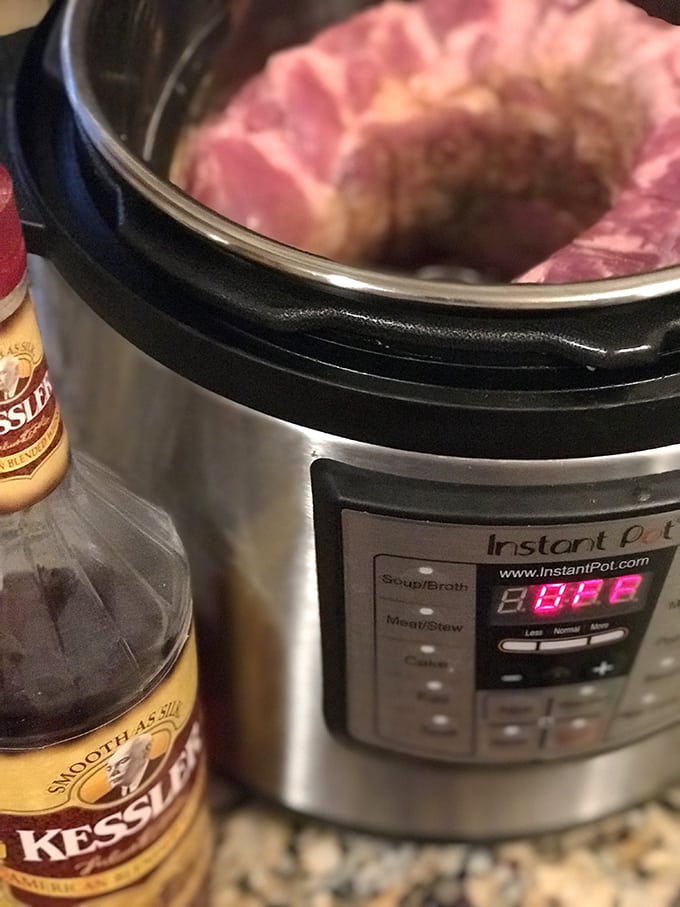 Santa, aka Scott, gave me the basic Lux model of the Instant Pot. It has a 6 quart capacity and aside from not having a yogurt making function, the Lux does just fine in spite of its humble position as the entry model Instant Pot. By default, the pressure cooker function on the Lux has only one setting, and that is high, which is what we used for this instant pot ribs recipe. If you're wondering what kind of Instant Pot might best suit you, take a look at this piece that we did recently.
Some of the highlights of this Instant Pot Ribs Recipe:
It uses a full rack of baby back ribs, between 3 and 4 lbs.

The ribs pressure cook for 30 minutes.

The sauce is a combination of orange juice, barbecue sauce, and whiskey (optional).

The ribs finish in the oven. Alternatively, you can mark them on a hot grill and then slather them in the sauce of your choice.

These Instant Pot Ribs are ready to eat in about an hour.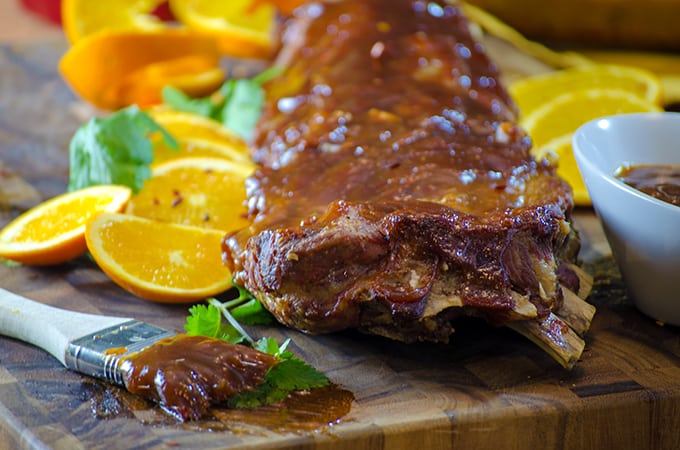 This Instant Pot Ribs recipe can be as simple as you want, or if you feel like using a little extra elbow grease, you can Love. It. Up. We've mentioned it in the past, but I think it's worth repeating. An Instant Pot can be a convenient kitchen tool but honestly, you will get out of it what you put into it. Some folks have the misconception that you can press a button and something magical happens with the Instant Pot. That's not exactly the case. That being said, you can still create some mighty tasty recipes with this new kitchen toy and I hope you're hungry because we are just getting started!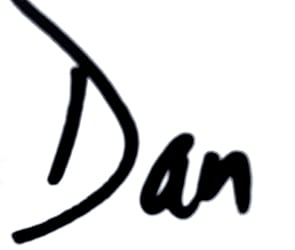 Orange Whiskey Instant Pot Ribs
This recipe for Instant Pot Ribs is flavored with the mellow tones of a whiskey steam bath and a coating of your favorite barbecue sauce with a little orange juice mixed in with it.

Ingredients
For the Instant Pot Ribs
3

lbs

pork ribs

1/2

cup

water

1/2

cup

whiskey
For the Sauce
1/2

cup

water and whiskey

from the liquid leftover after pressure cooking is finsished

2

cups

barbecue sauce

ue your favorite store brand or make your own

1/2

cup

orange juice

1

pinch

crushed red pepper flakes

flour

if needd for thckening agent
Instructions
Add water and whiskey to bottom of Instant Pot and after removing white membrane sheath from bone side of ribs, place the ribs into the Instant Pot as shown. Close lid, making sure that vent knob is in "sealing" position. Use the manual setting and pressure cook for 30 minutes. Allow for full natural release at end of cycle. Preheat oven to 350 degrees F.


Use kitchen tongs to remove rack of ribs from Instant Pot and place on a foil-lined baking sheet. Reserve 1/2 cup of cooking liquid and discard remaining liquid.

Set Instant Pot to high sauté and return reserved cooking liquid to pot. Use a wooden spoon to stir in barbecue sauce, orange juice and red pepper flakes. Reduce while stirring, to achieve desired consistency and sprinkle in a little flour if necessary to thicken sauce.

Cover the rack of ribs with sauce and place in hot oven for 15 minutes. You can keep these warm in the oven for longer if you want but be sure to cover in foil so they don't dry out.
Recipe Notes
To remove the membrane from the ribs, take a look at this post from Platter Talk.
Adjust amount of sauce, as desired. Its always good to have an extra bowl for dipping or splashing a little extra on these ribs.