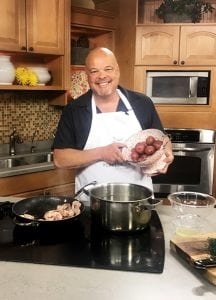 I'm super excited to have you here.  I started Instant Pot Family Recipes because I love to cook and I love to blog.  I grew up 50-some years ago helping my dad milk cows on our dairy farm and helping my my mom make everything from homemade pies to spaghetti in her Mennonite kitchen. Sometimes, to keep me out of trouble, my parents would let me bang out some pages on one of their old Smith-Corona typewriters that looked something like this:
It amazed me then and it still does, the impact that the written word can have on people. About the same time of my boyhood, one day my mom came across a couple of old cameras in the cupboard above her oven.  They looked exactly like these.
Milking cows just didn't stick with me although I can't imagine a better life, growing up as a farm boy. The writing and photography thing though – those became a part of me, along with the cooking and baking. Fast forward a few decades and in 2013 I learned quite serendipitously just how great these things mixed. I started a little food site called Platter Talk , just as a hobby,  and very soon I discovered the perfect marriage between cooking, writing and photography.
Using Instant Pot Family Recipes, my goal is to write and photograh my cooking adventures with the Instant Pot and share my experiences  with you. Just like life, there may be a few bumps along the way and an unexpected turn here and there but I promise you it will be fun and it will be delicious. That's how I roll and that's how I cook. Thanks again for joining me and now let's get out that Instant Pot!