This Instant Pot Chili Recipe is a do-over from one of the most popular recipes on Platter Talk. We made this White Chicken Chili for New Years Eve and I'm happy to say it delivered, right up to the standards of the original recipe.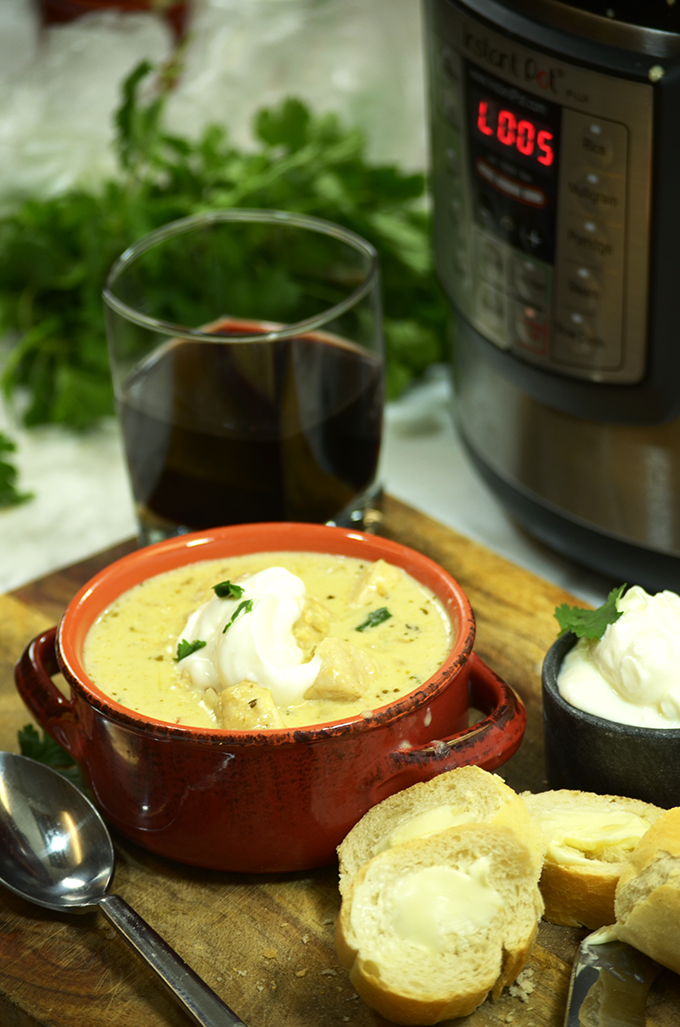 Instant Pot Chili Recipe
featuring white chicken chili
This was the second recipe I made with my new Instant Pot, the Lux 6 quart. I'm not going to beat around the bush here, it sold me on the latest kitchen craze to sweep across America. Did I need an Instant Pot to make this white chicken chili? No, of course not. I've been making it for years without one. Am I happy new Lux 6 quart for this Instant Pot Chili Recipe? I think you can tell from the photos and video below that the answer is an emphatic yes and these are just some of my reasons:
I was able to make this Instant Pot Chili Recipe in a single pot.

I didn't have to soak the beans overnight.

I was able to use dry beans, with no added preservatives and no added salt.

This Instant Pot Chili Recipe can easily be made in an hour or so, instead of an all day process.

Our New Years Eve guests raved about it.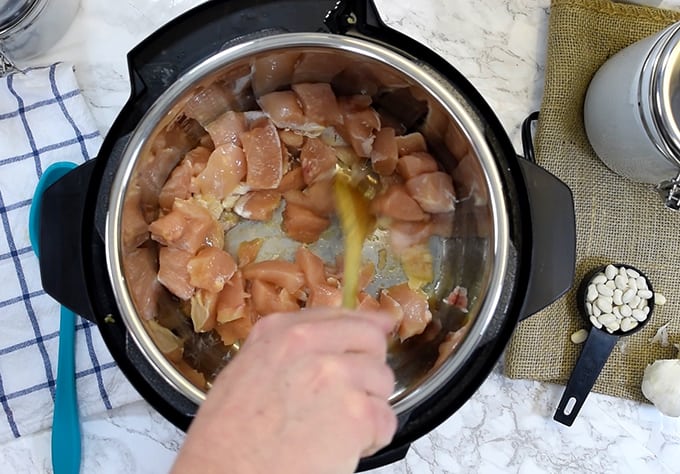 There's a lot to this Instant Pot Chili Recipe for White Chicken Chili. It take a little work because there are a lot of ingredients. Some Instant Pot fanatics seem to think they can just throw a frozen hunk of beef in the pot, hit the pressure cook function and BAAAAM! They've got an instant meal.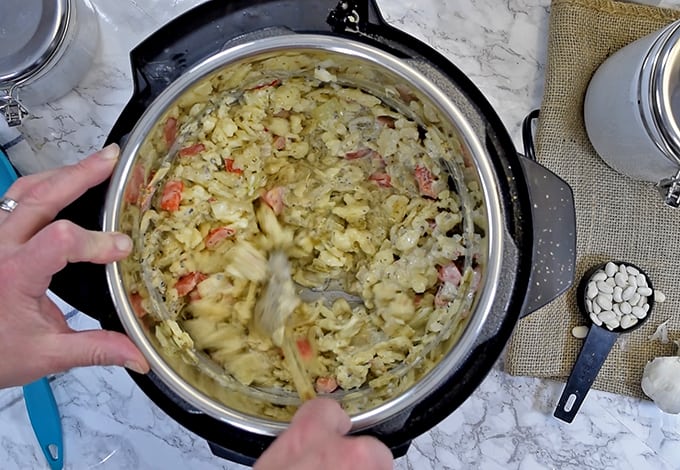 That maybe the case for sh#t on a shingle but in spite of using this new multi-function cooking device, there is actually some real good old fashioned cooking that has to take place in order to get a dish like this.
You pressure cook the beans.

You sauté the aromatics.

You brown the chicken.

You let it all meld via the slow cooker function.

You serve it to drooling guests and family.
Take a look at our Instant Pot Cooking Video
I hope you give this Instant Pot Chili Recipe a try, it's one of my favorites and I like it even more now that there is a faster method of making it that involves less clean up. Either way gives you delicious results but please don't take my word for it. Try it yourself!
Take a look at the original slow cooker version for this white chicken chili here on Platter Talk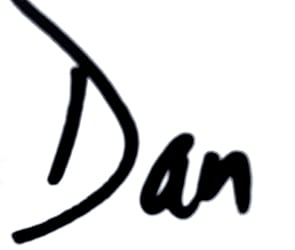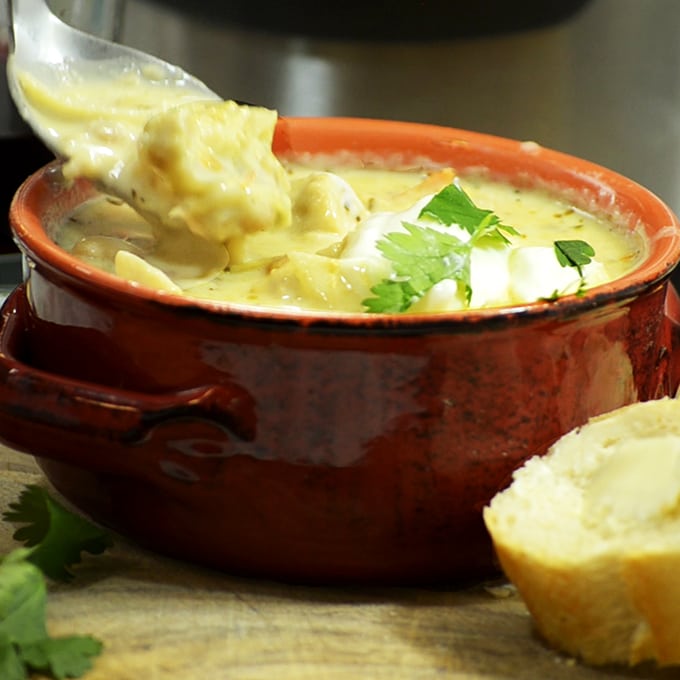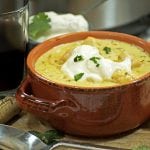 Instant Pot Chili Recipe for White Chicken Chili
A lively and flavorful dish that will make your guests beg for the recipe.

Ingredients
1.5

cups

great northern beans

dry, uncooked

4

tbsp

olive oil

divided

2

lbs

chicken

breast or thgh meat, diced in 1/2 inch cubes

1

white onion

large, coarse dice

1

red bell pepper

medium dice

4

cloves

garlic

thinly sliced

1

chunk

fresh ginger

about 1x2 inches, peeled, thinly shaved

2

tbsp

oregano

1

tbsp

cumin

ground

1

cup

cream

1

lb

pepper jack cheese

shredded or crumbled

8

oz

chili pepper

mild, chopped

14

oz

slasa verde

1

tbsp

kosher salt

fresh ground pepper

to taste

1.5

cups

low sodium chicken broth

use between 1 and 2 cups broth, per desired consistency

1

handful

cilantro

washed and choppped
Instructions
Rinse dry beans and place in Instant pot. Pour enough water over them to cover about 1 inch. Place cover on Instant Pot be sure top knob is in sealing position and select manual function for 45 minutes. Allow beans to vent naturally for at least 15 minutes at end of cycle. Remove beans from Instant Po, drain if necessary, and reserve.


Add 2 tbsp olive oil to Instant Pot, select sauté and high setting. Allow unit to reach temperature then add chicken and brown for 4-5 minutes being sure to stir with a large wooden spoon to ensure all pieces are evenly cooked. Remove chicken from Instant Pot, and set aside.


Heat remaining olive oil in Instant Pot, using sauté setting on normal (medium) heat. Add onion, bell pepper, garlic, ginger, oregano and cumin. Stir for about 5 minutes until vegetables are soft and translucent.


Turn Instant Pot to slow cooker function, on high setting. Add cream, pepper jack cheese, chili peppers, salsa verde, salt, pepper, chicken and beans. Use wooden spoon to gently stir between each addition.


Stir in chicken broth, place cover on Instant Pot with vent open on top and select slow cooker function, on high and duration of your choice. If you want this done faster, at this point choose soup function at medium or high setting, close cover for 15 to 30 minutes with vent open. Stir intermittently.


Add cilantro immediately before serving.

Recipe Notes
You can use between 2 and 4 lbs of chicken meat for this recipe, depending on the size of your crowd.
If you are making a full pot of this, use 2 cups cream.
Adjust amount of broth to help achieve the consistency you want. For a thinner chili, use more broth. For a thicker chili, use less. If you find the chili is too thin, sprinkle in 1 - 2 tbsp flour, gradually, and stir to thicken.
Serve with a dollop of sour cream if desired.