This pressure cooker mac n cheese made in the Instant Pot uses just a handful of ingredients, goes together quickly, and most important of all is the best macaroni and cheese you will ever taste.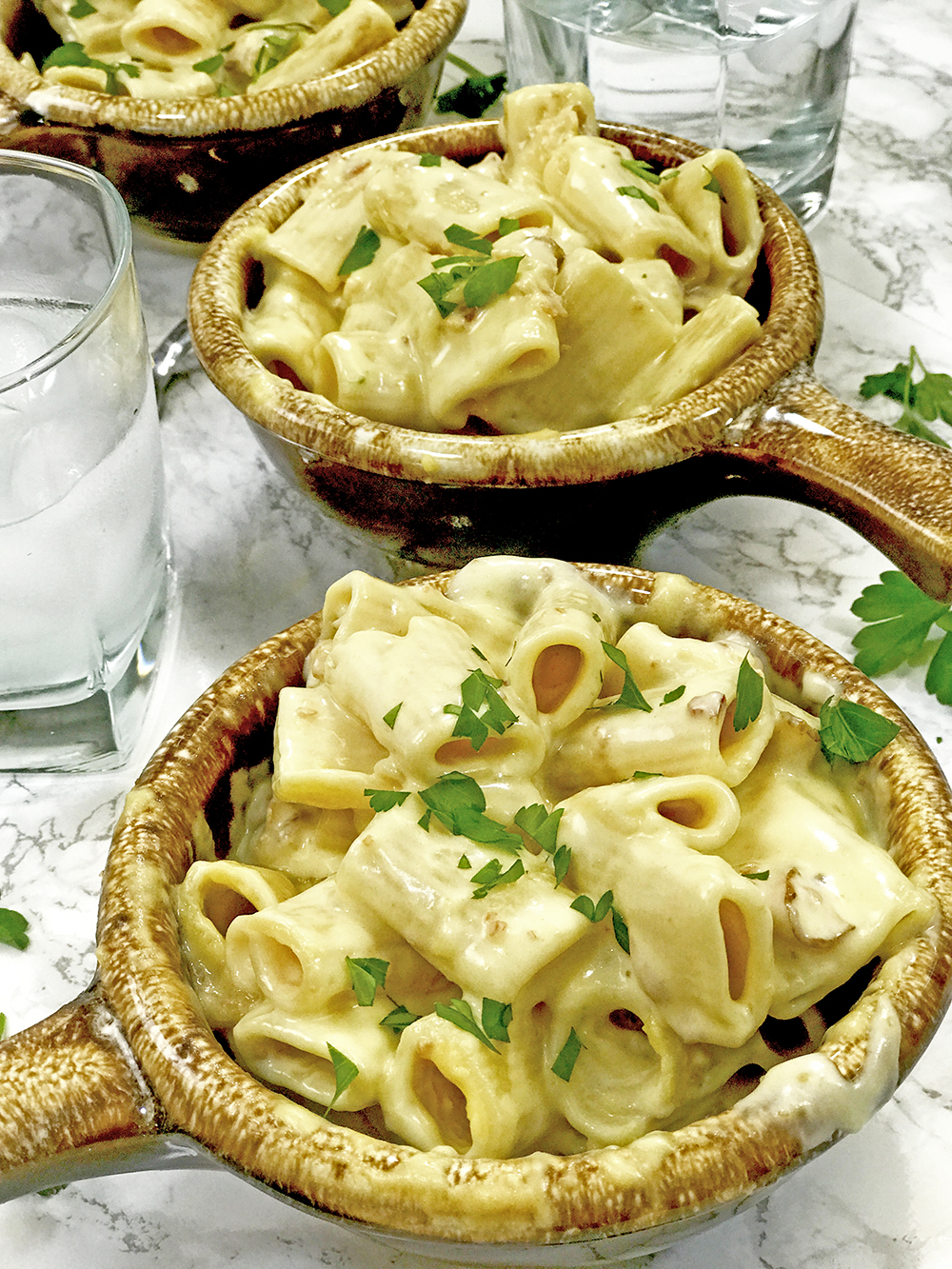 Pressure Cooker Mac n Cheese
Creamy bacon-laced Instant Pot Macaroni and Cheese
We took our (Almost) World Famous Mac n Cheese Recipe from Platter Talk and adapted it into this pressure cooker mac n cheese for the Instant Pot. Both versions use the same ingredients and the results are equally delicious. The pressure cooker mac n cheese is a bit creamier than the original recipe as it is not baked in a hot, dry oven. For this reason, I'm declaring this Instant Pot Mac n Cheese the taste winner of the two.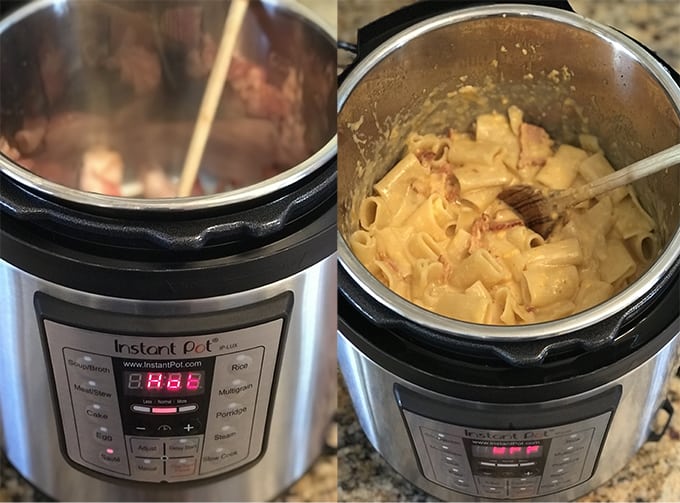 Ingredients for Pressure Cooker Mac n Cheese
Olive oil
Bacon
Pasta
Water
Extra sharp cheddar cheese
Cream
Kosher salt
Dry mustard
Flour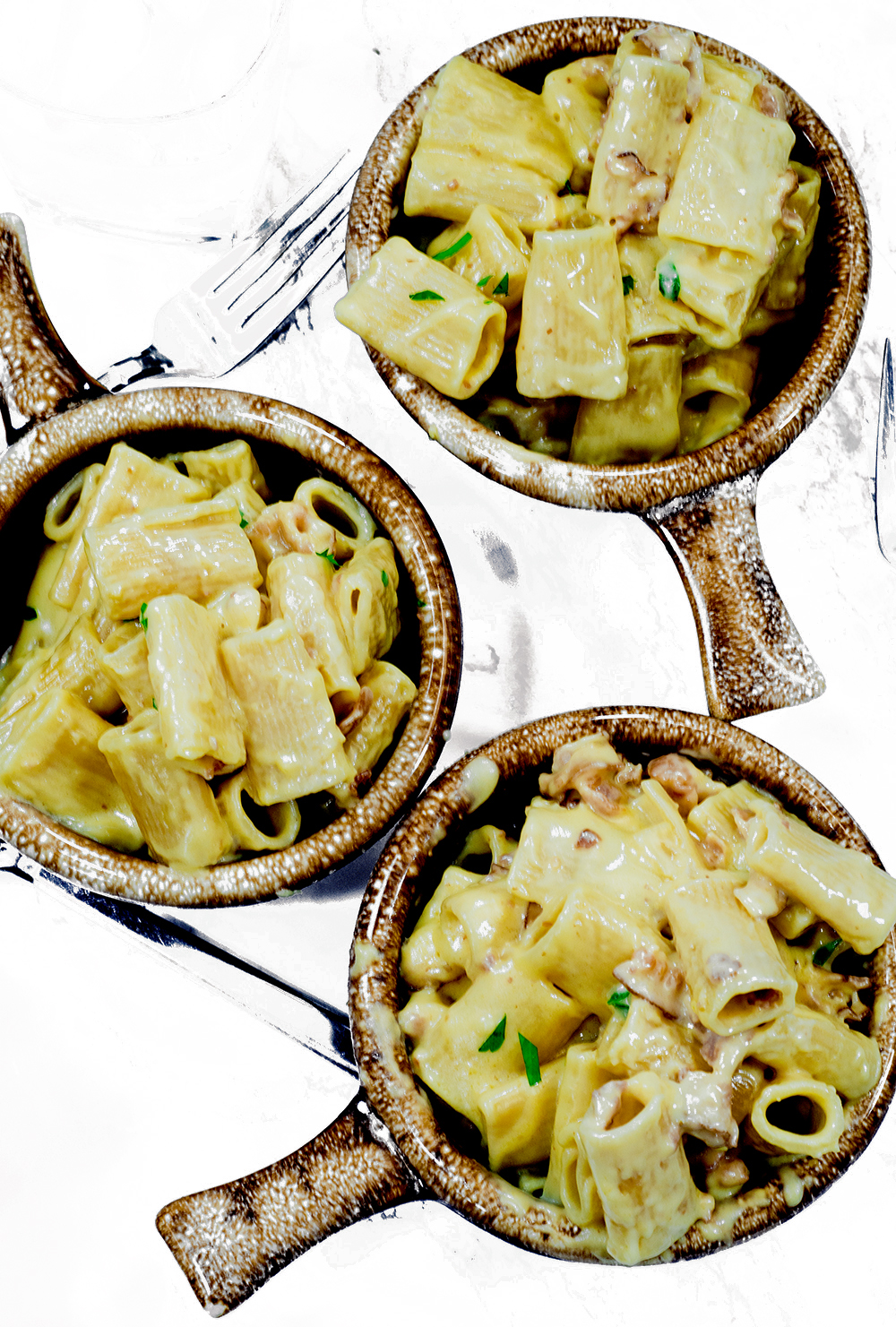 Pasta dishes and macaroni and cheese in particular are popular American family recipes and once again I think there is a wide misconception about what the Instant Pot is capable of doing. The Instant Pot doesn't think for itself. That's up to you, the operator. Different pastas cook differently. Spaghetti will cook differently than elbow macaroni which will cook different than penne pasta. You get the point. For my macaroni and cheese I always prefer the rigatoni style pasta which I buy at Aldi. The large and round tubular rigatoni pieces hold the sauce and and make for a great vehicle to carry the flavors of the cheese, cream and bacon in this macaroni and cheese dish.
I found that using my rigatoni of choice along with 4 cups of water and on a manual setting of high for 4 minutes works perfectly for this pressure cooker mac n cheese. Depending on the style of pasta that you use, and maybe even the brand, you may have different results. Experiment with your Instant Pot by picking up an extra package of your favorite pasta and do a couple of dry runs. Your goal is to find the right pasta, the right time, the right setting, and the right amount of water for pasta that is not over cooked and mushy but instead has a firm al dente (to the tooth) bite.
Give this pressure cooker mac n cheese recipe from your Instant Pot a try. I know you're going to love it.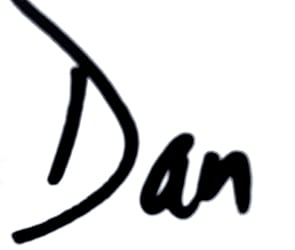 Check out our Instant Pot Cooking Video of this Delicious Mac n Cheese!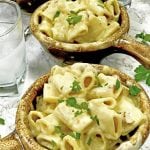 Pressure Cooker Mac n Cheese
Creamy, savory macaroni and cheese from the Instant Pot

Ingredients
1

tbsp

olive oil

12

oz

bacon

diced into 1" pieces

16

oz

rigatoni pasta

4

cups

water

2

cups

sharp cheddar cheese

shredded

1

cup

cream

or milk

1

tbsp

kosher salt

1

tbsp

dry mustard

1

tbsp

flour
Instructions
Place olive oil in Instant Pot and turn to sautée, medium setting. When oil is hot, place bacon in Instant Pot and stir until fried down to desired level of crispiness. Turn Instant Pot off and drain water and fat from bacon and then return bacon to Instant Pot.


Place pasta in Instant Pot, on top of bacon. Add water and place cover on Instant Pot making sure that vent is in "sealing" position. Select manual setting (high) for four minutes. Do a quick release at end of cycle using caution to not get burned from the steam.


Select sauté function (low setting) and use a large wooden spoon and stir in cheese, cream or milk, salt an mustard. The excess liquid will get absorbed by the pasta with a couple of minutes of stirring and a little heat from the sauté feature. If you want to thicken the mac n cheese a bit, sprinkle in a bit of flour to desired consistency.


Serve immediately, or place cover on Instant Pot with vent open and Instant Pot turned to "keep warm" setting. Alternatively, you can place the mac n cheese in an oven safe dish, place it in a warm oven to keep warm or under the oven broiler for a minute or so to brown the top.

Recipe Notes
When doing a quick release, place a moist towel over vent to help absorb the hot steam. Use caution and wear an oven met to prevent serious burn or injury from hot steam.
Adjust liquid and flour to desired consistency. Be sure not to add too much flour at the end of this recipe. The mac n cheese will thicken with a little time, stirring, and heat.
---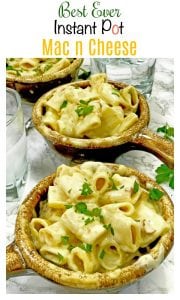 ---
Looking for something to serve with this Pressure Cooker Mac n Cheese? Give these

Instant Pot Ribs

a try!