This easy dinner of ginger-soy beef stew over lentils is a wonderfully delicious Instant Pot beef stew that is perfect for a weeknight family meal or a special dinner for a night of entertaining guests.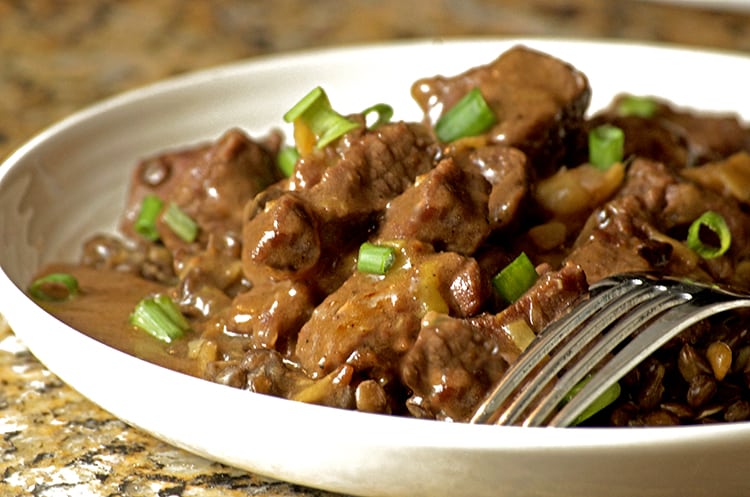 Instant Pot Beef Stew
With Ginger and Soy over Lentils
If you read our other food website called Platter Talk, you know that every once in a while I make a confession to my readers. Today I am confessing to you that I lied to my spouse. When asked what I was making for dinner a few nights ago I nonchalantly replied that it would be something in my new Instant Pot, "But don't worry, honey. I'm not going to do a post with it." As this recipe for Instant Pot beef stew progressed, it became more and more obvious that a little white lie was in order.
I really wasn't even sure what I was making when I started out on this Instant Pot dinner. It was only the third time I had used the thing and I knew it would be tough to beat my mac and cheese and white chicken chili that I had put together earlier in the week. (Watch for those recipes soon!) At the meal's conclusion though, both Scott and I agreed that this Instant Pot beef stew put me at 3 for 3 in terms of a great tasting Instant Pot meal.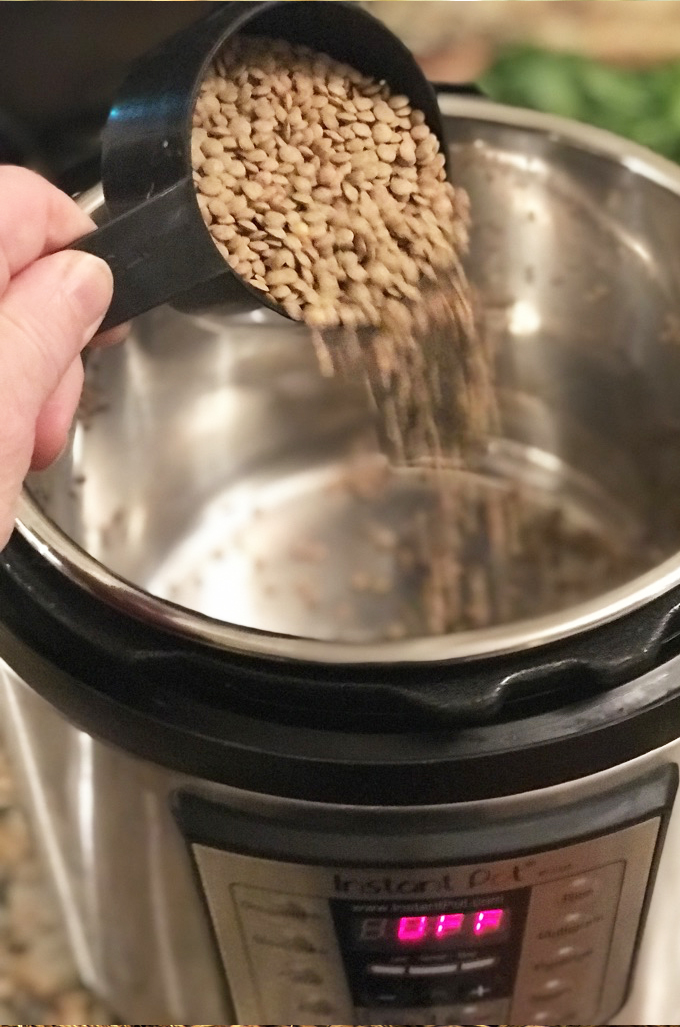 Not a fan of lentils? Scott told me he wasn't either until he tasted this Instant Pot recipe. Does that make him a liar? If so, I'm going to let it slide since he was kind enough to forgive me. But seriously, some fresh ginger, garlic, and green onions give these lentils a delicious flavor. They cook in a chicken broth which makes them taste even better and of course the wonders of the Instant Pot has them ready to eat in a matter of minutes. No need to soak them overnight.
Did you know that lentils are very good for you too? They're full of fiber and protein and contain virtually no fat at all. Here is a great little article on the virtues of adding lentils to your diet If you're an amazon shopper (who isn't these days!) then this is a handy link to order some lentils right now.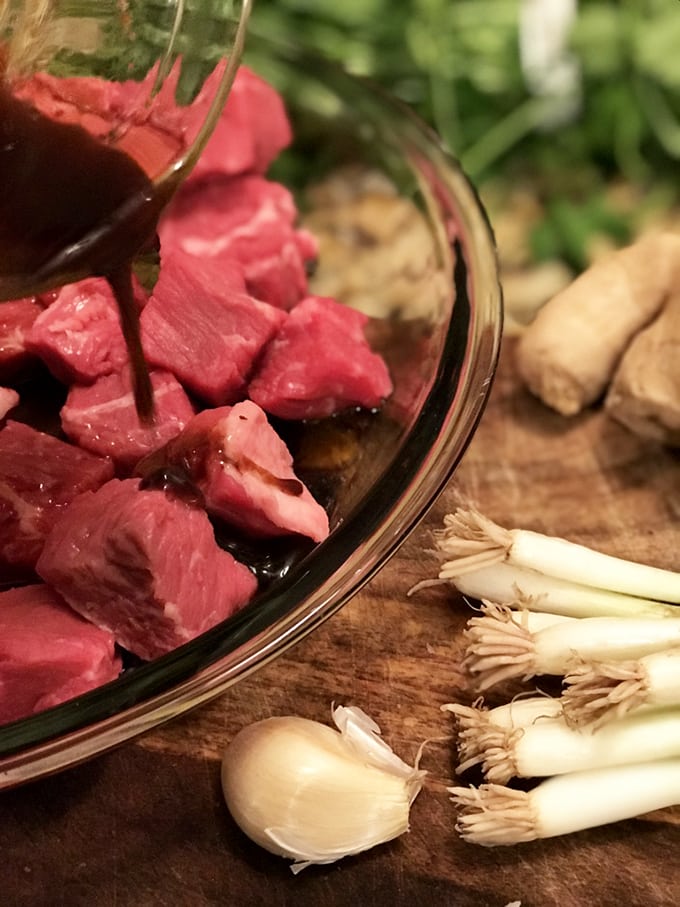 This recipe for Instant Pot beef stew uses the following functions, making it a great recipe to learn how to use the Instant Pot:
Sautée

The fresh ginger, garlic and green onion are all satuéed and then later the beef is briefly browned.

Manual

The dry lentils are cooked, in about 15 minutes using this mode in "high" setting.

Meat/Stew

The beef is cooked on this setting, for only a few minutes.
I hope you will give this Instant Pot beef stew a try. This recipe is my own, it's one I made up and I always encourage my readers to make it your own. Have fun, play a little, and remember, sometimes a little white lie is called for now and then, especially if it turns out delicious.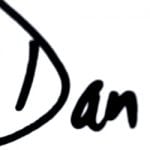 Ginger-Soy Beef Stew and Lentils
Ingredients
3/4

cup

olive oil

divided

2

tbsp

low sodium soy sauce

2

tbsp

brown sugar

16

oz

sirloin beef

cubed in 1 inch squares.

1

tbsp

kosher salt

1

tsp

ground black pepper

1/4

cup

green onions

divided

4

tbsp

ginger root

fresh, peeled, shaved and divided

4

cloves

garlic

peeled, shaved and divided

1

cup

lentils

dry, rinsed

3

cups

chicken broth

divided

1

tbsp

butter

2

tbsp

flour
Instructions
Use small bowl and mix 1/2 cup olive oil, soy sauce and brown sugar together. Place cubes of beef in shallow dish (I use a pie plate) and pour olive oil mixture over beef. Evenly distribute salt an pepper over meat and use a fork to mix the pieces up to ensure even distribution. Set dish aside and allow meat to marinate.


Set Instant Pot on "sauté", high. Allow pot to get hot and then add 2 tablespoon of olive oil, reserve remaining amount. Add half of the green onions to pot, along with half of the ginger root and half of the garlic. Use a wooden spoon and stir for about 2 minutes until ingredients are softened. Press "keep warm/cancel" button on instant pot.


Place lentils in the Instant Pot and add about 2 cups broth (enough to slightly more than cover the lentils), place cover on and make sure vent knob is in "sealing" position. Select "manual" setting, adjust time to 15 minutes. Allow to vent naturally at end of cycle. Take lentils out of pot and transfer to glass dish and cover with foil.


Set Instant Pot on "sauté", high setting. Add 1 tablespoon olive oil and butter to pot and allow to get hot. Next, discard the marinade and add beef chunks and stir with wooden spoon to evenly brown. Add remaining green onions, ginger and garlic. Stir for about a minute and then add flour. Stir contents to coat with flour and add about 1 cup (remaining) broth. Stir well and place cover on instant pot.


Set to "meat/stew" for five minutes, be sure vent knob is in "sealing" position. Allow to vent naturally at end of cycle.


Serve the stew over lentils and garnish with thinly sliced stems from green onions if desired.

Recipe Notes
Use 1 to 1.5 lbs of beef, you may substitute stewing beef for the sirloin. If using a lesser grade of beef such as stewing beef, allow for 15 minutes  of time, on "meat/stew" cycle.
You may use beef or vegetable broth or water instead of chicken broth.